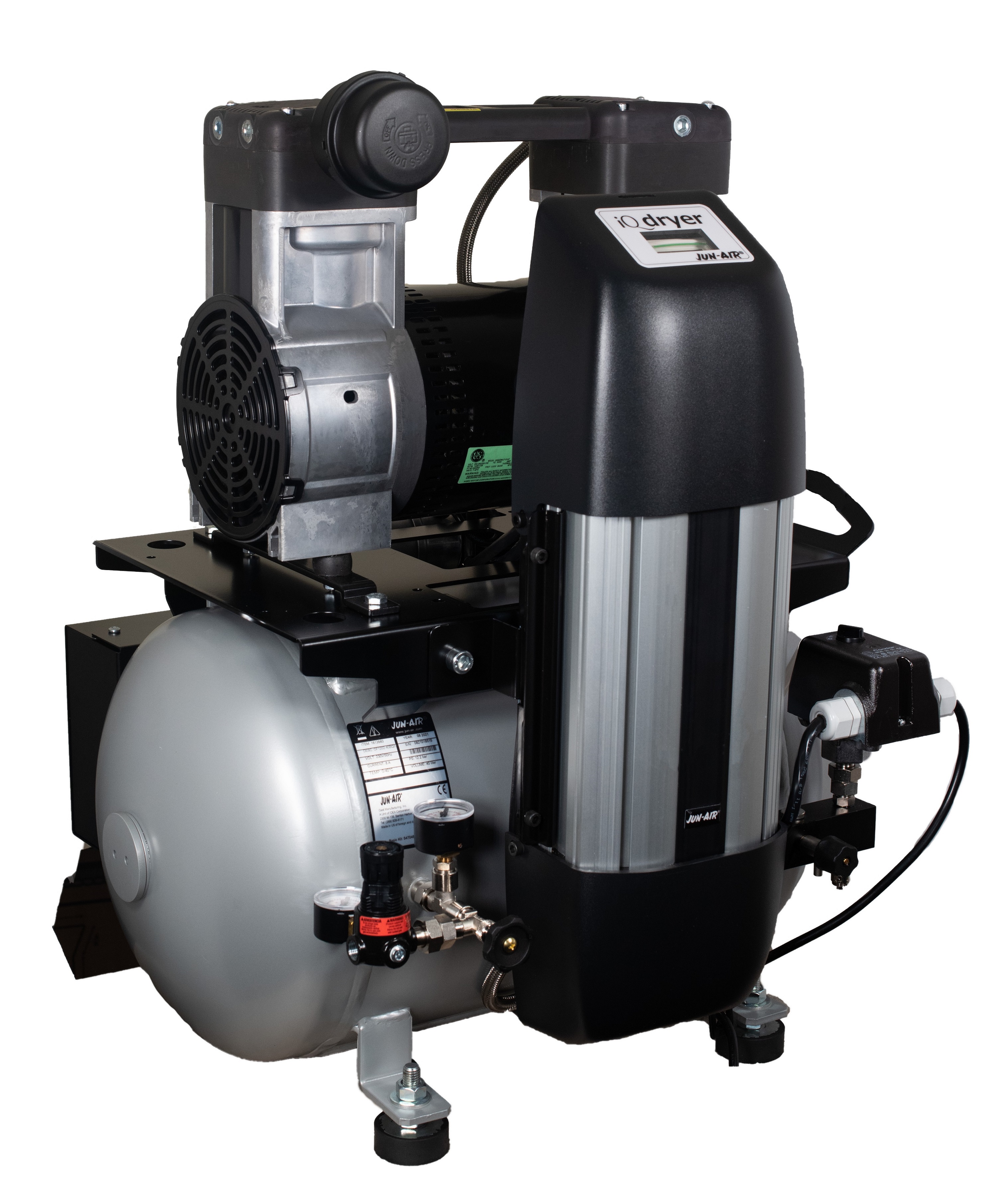 120R-40BQ3

Description
The 120R-40BQ3 replaces and improves upon the outgoing OF1202-40BQ3.
120R = 120R 2HP Oil-less Rocking Piston Compressor
40 = 40L Tank/Receiver
B = Jun-Air Basic System (Compressor is Uncovered)
Q = Includes Air Dryer
120R Series Oil-less Rocking Piston is ideal for global plug-n-play laboratory, medical, dental, gas generation, beverage dispensing, and other applications where noise and long life are key requirements. The GAST 120R Oil-less Rocking Piston Compressor inside of a Jun-Air System has few moving parts which reduces noise, vibrations, as well as wear and tear. The reduced noise and vibration level makes it possible to place the compressor directly at the place of use. Our Jun-Air Systems are rated for 100% continuous duty cycle and include a 2-year factory warranty.
Specifications
ps_regulatory_approval:
CE
Flow @ 60 Hz:
8 cfm
( 13.59 m3h )
Flow @ Max Pressure - 50 Hz:
4.1 cfm
( 6.97 m3h )
Flow @ Max Pressure - 60 Hz:
4.5 cfm
( 7.65 m3h )
Max Sound Level @ 50 Hz:
75 dB(A)
Max Sound Level @ 60 Hz:
77 dB(A)
ps_regulatory_approval:
CE
Flow @ 60 Hz:
8 cfm
( 13.59 m3h )
Flow @ Max Pressure - 50 Hz:
4.1 cfm
( 6.97 m3h )
Flow @ Max Pressure - 60 Hz:
4.5 cfm
( 7.65 m3h )
Max Sound Level @ 50 Hz:
75 dB(A)
Max Sound Level @ 60 Hz:
77 dB(A)
SIGNUP TO DOWNLOAD
Submit your email to get instant access to site-wide content
ALMOST THERE
Register once for immediate access